The Wisconsin Guide
is your comprehensive travel source for Wisconsin. Despite its claim as America's Dairyland, there's more to Wisconsin than just cheese. The state contains more than 8,000 lakes, perfect for a variety of water sports and fishing, plus thousands of acres of national forest in which to hike, bike, camp, and hunt. You'll also find plenty of places for relaxation and entertainment, including spas and art galleries.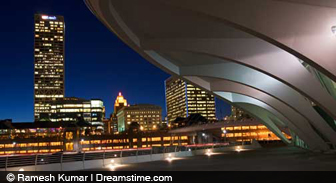 With a little bit of imagination, your Wisconsin vacation can begin before you even begin your trip. By taking the time to do a little research about when to go, what to do, and where to stay, you can begin your journey to the Badger State in your mind. This approach can help make the mundane task of planning your trip an exciting adventure.

Dance:
The popularity of polka dancing in Wisconsin stems from its German heritage. In fact, Polka is the official state dance. Throughout the state, a number of polka festivals and events take place every year. For more information on polka and Wisconsin's dance culture, shimmy on over to our guide to
Dance
.

Music:
One of the top ways to experience music in Wisconsin is by attending a festival. At festivals, music lovers get the chance to hear a variety of bands and musicians play, sample different food, purchase memorabilia, participate in various games and activities, and more. Some of the top events include Pulaski Polka Days and Summerfest. (
More...
)
The
culinary
accomplishments of Wisconsin include titles such as Bratwurst Capital of the World, America's Dairyland, and the Beer Capital of the United States. Due to the high number of German immigrants who settled the area, vacationers should plan on feasting on an array of German-inspired plates, including Chicken Booyah and Blitze Torte. Alongside the traditional fare of the area, Wisconsin offers up contemporary foods in chain, fast food, and high end restaurants.